Company History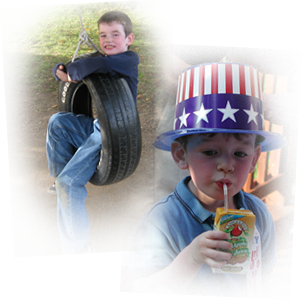 Our decision to become more socially responsible consumers began many years ago. It began long before the birth of our first child, long before headlines associated with lead and other unsafe chemicals used in the production of toys, and long before green became more than just a color. Our initial decision to research and understand the origin of the products we were consuming was spurred by our respect for freedom, and our belief that every human being has certain tangible rights to which they are entitled regardless of the country in which they are born. Since it is constantly challenged and refined, freedom carries with it a great responsibility (as do most social and environmental issues). We are not politicians or policy makers, we are not courageous humanitarians inclined to leave our country to advocate for freedom in foreign lands, and we do not have significant financial resources to give in support of this cause which indeed lies at the very core of our identity as Americans. However, we are consumers and we believe that our small voice will be heard through the decisions we make as consumers.
Changing our purchasing habits was challenging, but also very rewarding. It required time and research and patience and sometimes a sacrifice. However, in nearly all areas of spending we were successful in finding acceptable alternatives to items made in countries where human rights and civil liberties were not protected. Our social conscience was not truly tested, however, until we decided to start our family. Months of methodically examining and researching hundreds of toys in every toy store in town resulted in many disappointments and only a few successes. It became obvious that the toy industry was (and still is) dominated by products made in a country where human rights are frequently violated.
Our endeavor had officially begun!
Perhaps you have heard of Captain James Cook, an 18th century English explorer and navigator who commanded, among others, a ship called the HM Bark Endeavour. As with most explorations, The Endeavour and her captain and crew were in search of facts, in search of the truth. Throughout her journeys, she would encounter adversity and even mutiny. It may sound dramatic, but our endeavor towards social responsibility was also wrought with adversity and mutiny. Accurate information was scarce and our families grew tired and angry in regard to our efforts. In desperation, they resorted to deception, removing or altering identifying tags from toys and gifts, warning us that we were denying our son the wonders of childhood. We turned to catalogs and the internet and, with significant time and effort, identified a few wonderful American and European toy manufacturers. But the process was time consuming and painful. There was limited selection and in many (if not most) instances we had to return toys that we ordered because the information provided to us by the catalog, internet retailer or manufacturer representative was inaccurate. As our awareness grew, other issues central to the toy market became more obvious. Freedom was joined in our conscious by environmental sustainability and toy safety.
As bleak as it originally seemed, our endeavor has resulted in a playroom with beautiful, unique, and interesting toys occupying every corner and shelf. The pages of our web site are a representation of many of the socially responsible toys and treasures we have found over a long and arduous journey, one that continues as a focused family treasure hunt. We sincerely hope that our ongoing exploration of the toy market will make it easier for you to succeed in your efforts to find special playthings for your children and your family, items that meet your own individual definition of socially responsible fun.